Linguine with White Clam Sauce
Dawnab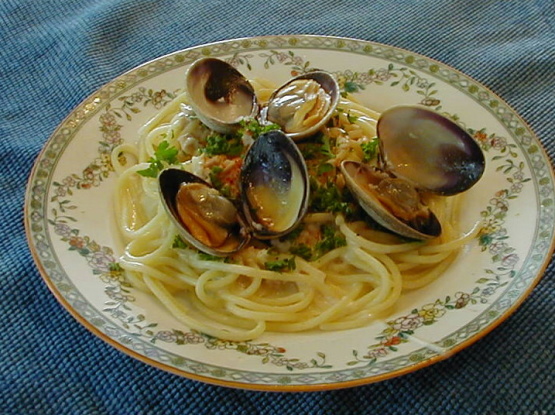 This is sure to please all the clam (and pasta!) lovers at home.

Top Review by Dawnab
OMG, we loved this. I did do the steaming of the clams first, took the out and covered them with foil, them preceded with the recipe from step one. I seasoned with salt and pepper then kicked it up with a splash of lemon and a sprinkle of cayenne, this recipe hit the spot for my craving for linguini and clam sauce, absolutely delightful!
Heat 2 tblsps of the olive oil and the butter in a saucepan.
Saute 3 garlic cloves until soft, but not browned.
Add ½ cup wine, minced clams, flour and mix well.
Add cream and cook on low heat until slightly thickened.
Meanwhile heat remaining 2 tblsps olive oil and add whole clams and garlic.
Add remaining wine and steam until open.
Toss cooked linguine with cream sauce, top with whole clams, sprinkle minced parsley over generously.