Linguine With White Clam Sauce
Annacia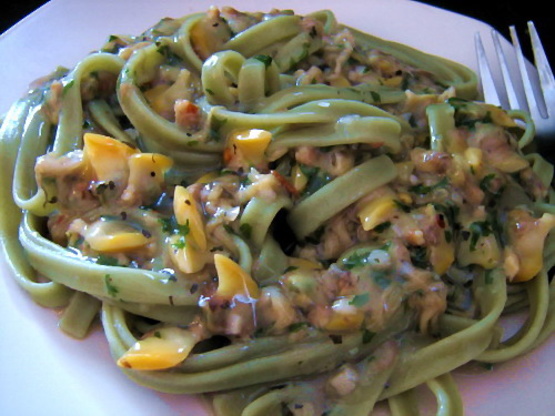 A traditional version (*This recipe was originally posted by a former Zaar member.)

Perfect. Absolutely the right balance of garlic and heat. I actually left all the clams in the shells to retain all the cooking liquid and make it easier on the chef -- the final dish is more difficult to toss, but I feel like i get more clams when I have to slurp them off the shell myself. I was surprised to find we were out of white wine, but vermouth seemed to work just as well. This was just right and so fast. To be added to the weekly repetorie.
Bring six quarts of water to a rolling boil and add 1 tablespoon salt.
Open 24 of the clams over a bowl with a sieve to strain the clam liquid.
Save 4 clams for garnish.
Set the strained liquid aside and chop the clams into a mince.
Add the linguine to boiling water.
The clam sauce should take the same length of time to cook as the linguine.
Sauté minced garlic in the olive oil over high heat, being careful not to burn it.
Add the minced chilies.
Add the minced clams and sauté to heat through, then add the black pepper and white wine.
Now add the reserved clam liquid.
Open the last four clams without detaching the clams from their shells, and toss them into the sauce.
Add the parsley and basil.
Lower the heat to medium.
When the linguine is al dente, drain it and toss it with about half of the sauce.
Divide the pasta onto four plates, add the remaining sauce, and garnish each plate with one of the whole clams.