Linguine With Three Colors Vegetables and Pesto Sauce
awalde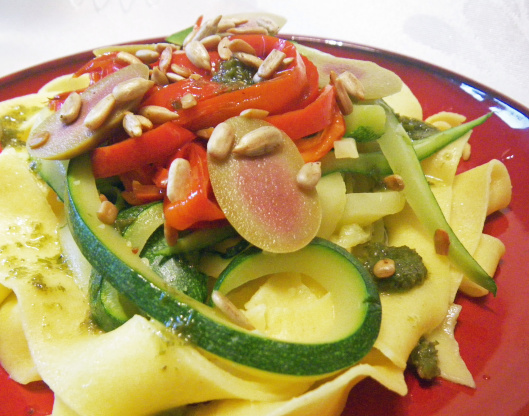 Like an Italian flag, this flavorsome dish combines the colors red, green and white.

I enjoyed this! I scaled the recipe back for one, used red and green bell pepper and threw in a little soy chorizo. I did use just a little more pesto to my taste. Thanks for a lovely and healthy dish! Made for the Hidden Gems contest and this was a hidden gem!
Bring salted water to boil and cook your linguine as described on the product package.
In the meanwhile fry the red bel peppers 5 minutes in oil, add garlic and fry for another 5 minutes.
Blanch zucchini until soft.
Mix pesto, chopped olives, and chopped sunflower kernels together.
Arrange hot linguine in 4 single plates.
Adjust first zucchini and then the red bell peppers on linguine.
Spoon pesto mix on them.
Top with sliced olives and sunflower kernels.