Linguine With Sun-Dried Tomato Pesto
Bergy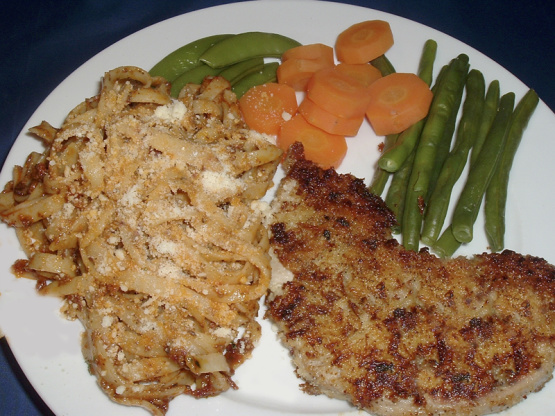 I thought this was a very tasty sauce. It was very easy to prepare - just whirl a few ingredients in the food processor and you are done. My family wasn't wild about it - they found the garlic a bit too raw tasting and could use some additional seasonings, especially salt. I, however, thought it was quite tasty and would make it again. I would, however, prefer to use roasted garlic and grind up some of the basil into the sauce itself next time, as well as adding some salt.
Put the pine nuts in a small non-stick frying pan and toss over a low heat for 1-2 minutes or until the nuts are lightly toasted and golden.
Tip the nuts into a food processor.
Add the Parmesan, sun-dried tomatoes and garlic, with pepper to taste.
Process until finely chopped.
With the machine running, gradually add the oil through the feeder tube until it has all been incorporated evenly and the ingredients have formed a smooth paste.
Cook pasta according to packet directions, Drain well, reserving a little of the cooking water.
Tip the pasta into a warmed bowl, add the pesto and a few spoonfuls of the hot water and toss well.
Serve immediately garnished with the basil leaves and Parmesan shavings.