Linguine With Spicy Sausage and Scallion Sauce
karin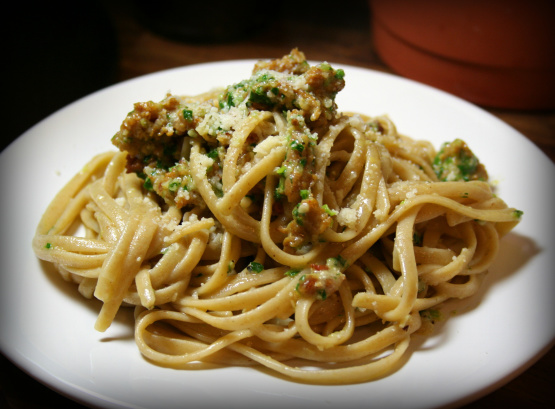 form Food and Wine May 2007

Top Review by karin
I found this recipe in Food & Wine magazine, then forgot about it for a while. Recently, I remembered it and looked it up online. I'm rating it here because I see it's been on RecipeZaar since 2008 with no reviews. This pasta dish is excellent. The scallion and Italian parsley pesto is flavorful, yet simple. I made my dish using whole wheat linguine and otherwise followed the recipe exactly.
In a large ot of boiling , cook the pasta, drain it, reserving 1 cup of the cooking water.
in a food processor, combine the scallions, parsley, pine nuts and 1/4 cup of the olive oil and process until pureed. Add the 1/2 cup of the cheese, season with salt and pepper and process the pesto just until blended.
In a large skillet heat the remaining 1 tablespoon of olive oil. Add the sausage and cook over high heat, breaking up the meat with a wooden spoon, until it is lightly browned and no trace of pink remains, about 5 minutes. Drain the sausage and pour of any fat in the skillet.
Return the sausage to the skillet. Add the scallion pesto, pasta and 3/4 cup of the pasta cooking water and simmer over moderate heat, tossing until a thick, creamy sauce forms, about 2 minutes. and more of the pasta cooking water if the sauce is dry.