Linguine With Mushroom and Garlic Sauce
lazyme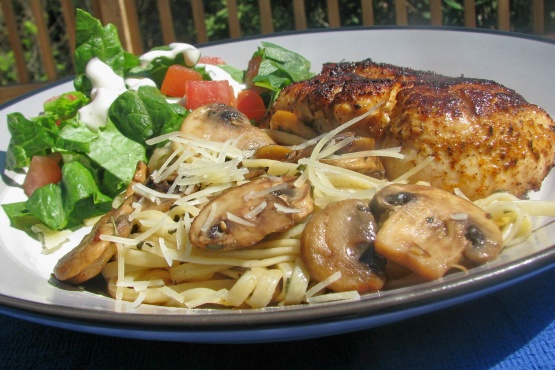 This is from the Horn of the Moon cookbook. This was pretty good. I would ½ the recipe for two people and add a splash of red wine. Serve with some cheesy bread sticks.

This was delicious! I did not have any fresh parsley, but used dry parsley instead. I also did not have any parmesean on hand so I eliminated that ingredient. However, it was still very delicious!
Cook the pasta in the water. Drain.
Melt 2 T butter in a saucepan. Add garlic and cook for a minute, then add mushrooms, basil and salt and cook until just tender.
Add remaining 4 T butter, pepper and oil.
Stir and remove from the heat. Add the parsley to the sauce.
Toss with the pasta and serve topped with Parmesan cheese.