Linguine With Leeks and Mushrooms
teresas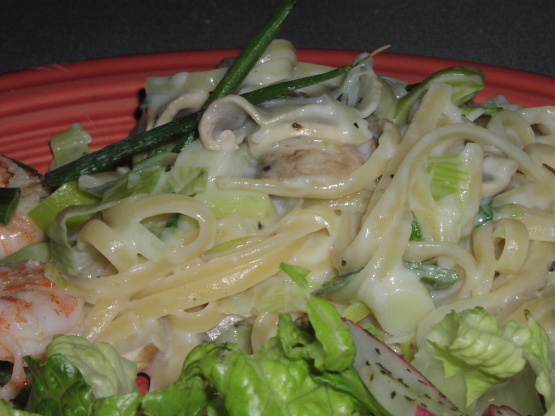 This is out of the "Everyday Cooking" cook book...sounds yummy...

I love the low fat factor (under 300 calories!) and the flavor profile. Don't believe that I've ever added leek to pasta before but it sure works well :D. If you like things just a bit off the beaten path and really make you feel that you have discovered something that you'll want to tell friends you thought of yourself, this is it (and yes, that was all one sentence,lol). Best of all, for me, it's diabetic acceptable without making changes. It tastes great, it's easy to make and it already diabetic friendly. Thats a win, win, win recipe to me.
Steam leeks, mushrooms and bay leaf over a large pan of boiling water for 10-15 minutes until tend.
Discard bay leaf and keep the vegetables warm.
Melt butter in a large pan, add flour and cook gently for 1 minute, stirring.
Remove from heat and gradually add milk,.
Return to heat and bring to the boil, stirring, until thickened.
Reduce heat and simmer for 2 minutes, stirring.
Add leek and mushrooms, chives and black pepper, heat through.
Cook pasta in a large pan of boiling water until al dente.
Drain well, return to pan, add leek and mushrooms sauce and toss lightly to combine.
Garnish with fresh chives.