Linguine Tossed With Tuna
Bobtail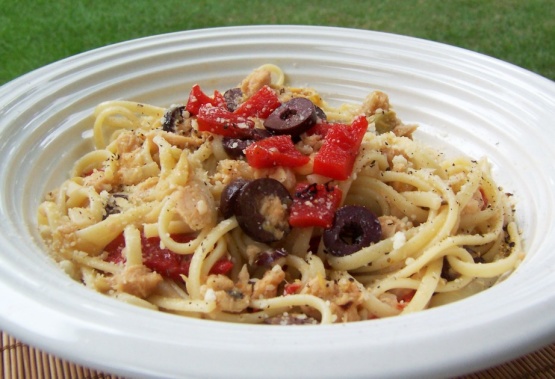 Very quick, easy supper. I snap the linquine in half before cooking. Using tuna packed in water cuts down on calories, or if using oil-packed, place in sieve and rinse before using. Cooking time includes time to cook pasta.

I think I changed this recipe too much for it to be successful. I used spaghetti, artichoke quarters (not marinated, but with juice), no peppers or flakes, and used dried minced onions. It didn't go over well. We seem to have a love-hate thing with artichoke dishes. Either we absolutely love it, or... (the opposite! :)) I think I won't tag any more artichoke dishes so I don't have to review if it doesn't work for our family. No stars bcz I probably messed it up too. :oops:
Keeping linquine warm, combine ingredients from tuna through olive oil (including liquid from artichokes) in a saucepan and heat, stirring together, until warmed through. (You can also microwave in a vented microwave-proof container, stirring once part way through; in my microwave, this takes about 3 minutes).
Toss tuna combination with linquine.
Divide between 4 dinner plates and sprinkle each serving with 2 Tbs Parmesan cheese.