karen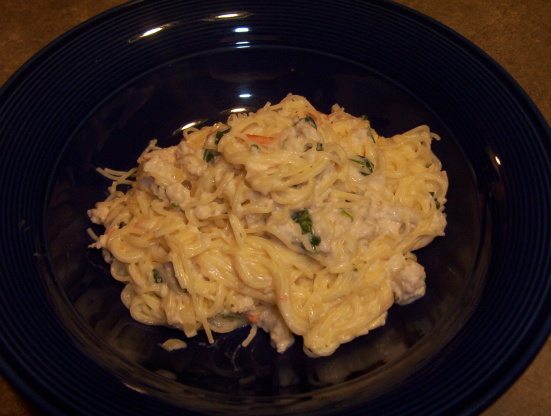 Fancy name for crabmeat and pasta. This dish kinda put me in mind of the Red Lobster crab alfredo, but still a bit different. None the less, delicious and easy. I ALWAYS have a can of lump crabmeat in the pantry and this dish is just wonderful for using it!

Top Review by karen
A while ago my cat got sick and my vet told me to buy some clam juice and sprinkle it over her food to see if I could get her to eat. It didn't work and I ended up with an (almost) full bottle of clam juice and no idea what do to with it. This recipe was perfect since I love white sauce pastas but find them too rich for my tummy in recent years. This one was pretty rich, but not too much. I subbed angel hair pasta for the linguine, skipped the salt & pepper (honestly I forgot about it since it never mentioned it in the directions) and used cilantro instead of parsley (since that is what I had in the fridge). Oh, and I didn't have any fresh lemons so I used a few squirts from store bought lemon juice. This was really great even with all my changes.
Cool the pasta as directed on the box.
Meanwhile, in a saucepan, melt the butter over medium heat.
Add the onion and cook, stirring often until softened, for about 5 minutes.
Stir in the flour and cook for about 1 minute.
Whisk in the clam juice and cream; bring to a boil, whisking continuously.
Drain pasta and return to the pot. Stir in the crab, cream sauce, parsley, and cheese. Toss to combine all the ingredients. Squeeze in lemon juice and stir again.