Linguine and Smoked Chicken With Mustard
Chickee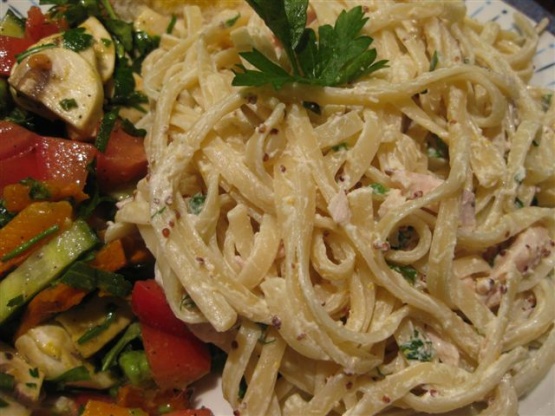 Smoked chicken is available in our deli's and some supermarkets here in Australia. It is pre-cooked.

I had a left over smoked chicken in the fridge that I'd been using for sandwich meat. It needed to be used and this recipe was perfect for a quick easy meal. I used about 3/4 to half the pasta but kept the quantities the same for the sauce and the rest of the ingredients. I had a bit of trouble keeping the heat down on the pan to prevent the sour cream from boiling, but maybe this was just a matter of using a smaller burner. Anyway, overall I think the recipe is quite nice and simple. Definitely good if you're after a quick easy meal.
Cook the linguine in a large saucepan of boiling water according to the packet instructions. Drain the pasta, reserving 1/2 cup water in case you need to thin the sauce.
Meanwhile, cut the smoked chicken breasts into thin slices.
Put the sour cream in a skillet and warm it over a low heat until it thins. Do not boil or the sour cream will separate.
Stir in the mustard and chicken and season with salt and freshly ground black pepper.
Toss the linguine into the sauce and mix well. Sprinkle with the parsley and serve immediately.