lazyme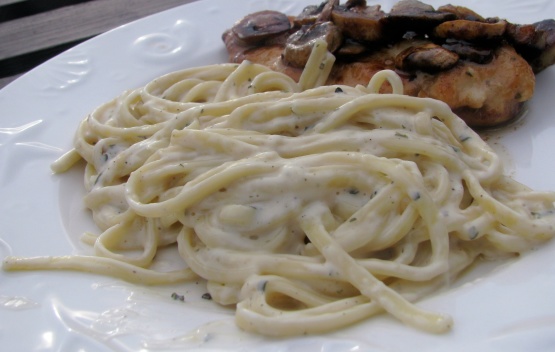 This is our adaption from a recipe from the red crustacean.

Although the end result was at least edible (after I added some salt and pepper), it was NOT like Red Lobster's Shrimp Linguini Alfredo, so seek another recipe if that is what you want. Aside from that, there were three problems. 1)The sautéed garlic, was over done by the time the shrimp finished cooking, it should have been done after the shrimp. 2)The sauce doesn't thicken, ever. 3)No salt? No pepper? Really???
Heat oil in large skillet over medium-high heat.
Add garlic; reduce heat to low.
Simmer until garlic is tender.
If adding shrimp, add to skillet and cook over medium-low heat until opaque.
Remove shimp; reserve liquid in pan.
Add chicken broth; bring to a boil.
Add wine; cook over medium-high heat 3 minutes, stirring constantly.
Reduce heat to low; add cream, stirring constantly.
Add cheese; stir until smooth.
Cook until thickened.
Add shrimp to sauce. Heat through.
Add lemon juice, parsley, basil, and oregano.
Pour over linguine in bowl; toss gently to coat.
Serve with additional grated parmesan cheese, if desired.