Ling Ling Pot Sticker Soup
lazyme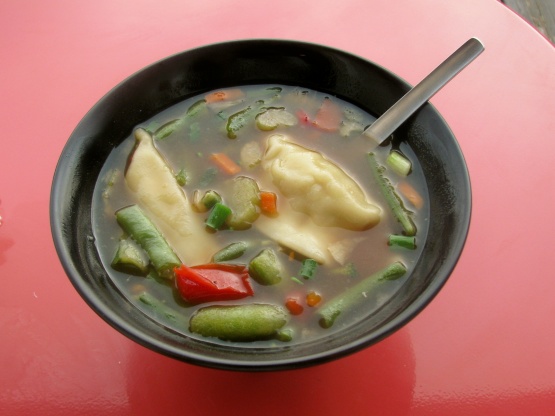 This yummy soup uses Ling Ling brand frozen pot stickers that I buy from Costco. Instead of frozen veggies, I use fresh ones and add water chestnuts and bamboo shoots. If using fresh....it will depend on how crisp you like them...as to when you add them to the soup to cook). This is something my teenage boys really like!
12

cups chicken broth

2

cups water

8

cups frozen mixed vegetables

40

ling ling chicken pot stickers, frozen

2

tablespoons grated fresh ginger
1⁄3 cup dipping sauce, thawed (2 packets=approximately 1/3 C. included with the Ling Ling Chicken Pot Stickers)
1⁄4 cup cornstarch

2

teaspoons chopped scallions, plus more
scallion, for garnish
salt and pepper
In a large pot combine broth and water. Bring to a boil. Add frozen Ling Ling Pot Stickers. Return to a boil and cook 4 minutes, stirring occasionally.
Add frozen vegetables, ginger and scallions. Cook 4 minutes.
In the meantime, mix Ling Ling Potsticker Sauce with cornstarch in a small bowl.
Add the sauce mixture to the soup and bring to a simmer. Season with salt and pepper. Garnish with a few more scallions.