Lindsey's Lemon Poppy Seed Cake
Brenda.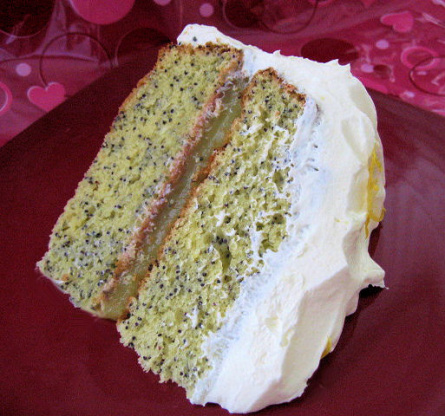 Creamy and dreamy is how my friend Marilyn describes this recipe. A sun-shiney lemon cake that is cool and refreshing. Lemon lovers, this one's for you!

Now this is a REAL LEMON CAKE, for sure! Puddings, pie filling, cake, the whole shebang! I'd made this for my other half to take to work the other day for a special luncheon (they're always having those kinds of things), but when I got through making it, I was so attracted to the lemony smell in the kitchen that I decided to keep it right here. Instead, I made a batch of brownies for him to take! This cake is really wonderful, & a hard copy of the recipe is now safely tucked into my recipe file in the kitchen! Thanks so much for sharing it! It is definitely a keeper! [Made & reviewed for one of my adopted chefs in this Spring's Pick A Chef event]
Preheat Oven to 350 degrees F.
Grease a 9x13 cake pan and set aside.
In a large mixing bowl, beat together on low the 1st 6 ingredients. When combined increase speed to medium and mix for an additional 4 minutes.
Pour into greased 9x13 cake pan.
Bake at 350 degrees F for 35- 40 minutes or until a toothpick inserted in center comes out clean.
Cool cake completely.
Spread lemon pie filling evenly over cooled cake.
In a large bowl mix together instant lemon pudding mix and milk until thickened.
Fold cool whip into pudding mixture.
Spread evenly over lemon pie filling.
Refrigerate until ready to serve.
ENJOY!
Note: I baked the cake in 2-9 inch rounds for about 27 minutes vs a 9x13 :).