Linda's Tuna and Olive Sandwich (Sandwiches) or Finger Rolls
DandiOli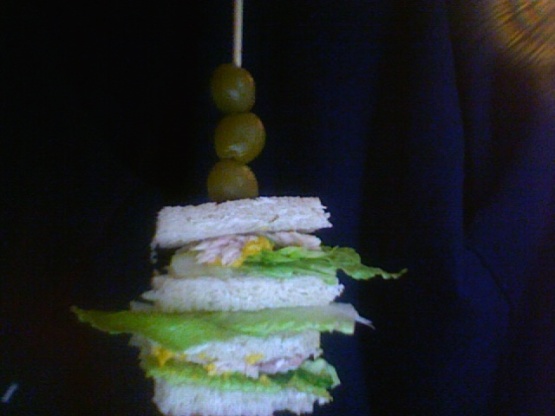 This is an excellent tuna recipe.
I have to say that, though, I often tinker with recipes, this recipe should be made AS WRITTEN if humanly possible.
DON'T substitute oil-packed tuna; the flavor and texture will both be affected.
DON'T substitute chunk light tuna for the albacore. Albacore is much drier than chunk light tuna, and the proportion of ingredients will be all wrong if you use chunk light.
DON'T use more onion. You only need a little onion to add volumes of flavor; too much and you will overwhelm the tuna.
DON'T substitute black olives for green. The briny taste of the green olives is the heart of the recipe; black olives have a much different texture and are not as salty, so there must be a drastic adjustment of ingredients if they are substituted.
BE CAUTIOUS if attempting to substitute Miracle Whip for real mayonnaise. Miracle Whip is much thinner and has a sweeter flavor than real mayonnaise, which can throw the entire recipe off.
DO spread mayonnaise on the bread if you are making a sandwich. This will prevent the bread from getting soggy.
Made as written, this is a delicious recipe for a tuna sandwich. Thanks for posting!
1

(7 ounce) can solid white tuna, packed in water, drained well
1⁄4 cup mayonnaise, add more, until desired consistency

10

green olives, finely chopped
1⁄2 medium onion, finely chopped (optional)
lettuce (optional)

4 -6

slices bread, for 2-3 sandwiches or 3 -4 finger rolls, for finger sandwiches
Flake the tuna between your fingers, and add mayonnaise. Mix well.
Add olive and onion. Mix well.
I put extra mayonnaise on the bread if making a sandwich.
Put lettuce on bread.
Add tuna mixture, and top with bread, or stuff into roll, filled to your liking.
Serve with dill pickles and chips-- Can't be beat!