teresas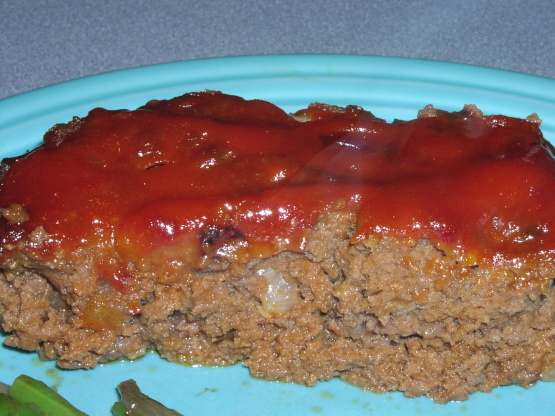 This recipe adds a zing to the word "Meatloaf"! It is sooooooo GOOD! Great with Mexican Rice, and Mexicorn for a delicous meal!

Linda, your meatloaf recipes are a big hit with my family, so I am working my way down your list. This meatloaf was excellent! I made it exactly as posted and it came out great for us. The flavor was awesome and the sauce was so good I couldn't believe it! I don't know what the last poster did wrong, but if you follow the recipe you have a delicious meatloaf with lots of sauce that is great flavored and delicious. Your picture sure doesn't look like the meatloaf was soupy with too much sauce! We truly love it and recommend it highly. Thanks!
Heat oven to 350.
Mix ground beef and bread crumbs together, and mix well.
Add onion, ketchup, barbecue sauce, and A-1 sauce, and mix well.
Shape into a rectangle, and put into a 9x13" pan.
Mix Sauce ingredients together, and pour on top of meatloaf.
Bake for 1 hours 15 mins., or until done.