Bayhill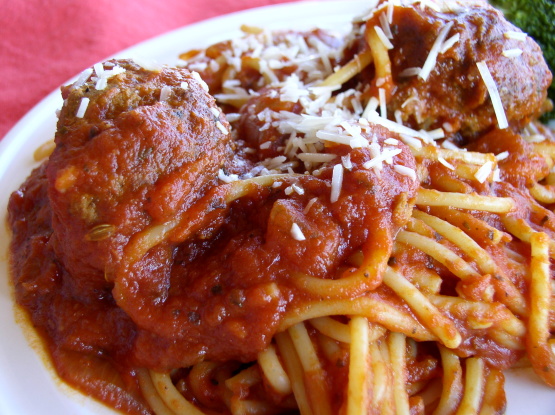 This is a thick, meaty spaghetti sauce that my Mother taught me to make as a teenager, and has received raves in three states. I try to use low salt tomato sauce whenever possible.
This sauce had the perfect consistency that we love. I can't stand thin, runny spaghetti sauce. I didn't use the ground beef because I made recipe #124958 and used that instead. I added the meatballs after the sauce had cooked for 1 hour. I sauteed the onions in some basil infused olive oil before adding the tomato, spices and wine. I did have to increase the seasonings quite a bit for our taste and I added quite a bit of sugar and salt to cut the tartness of the tomatoes. Thank you for sharing. **Made for Culinary Quest - Suitcase Gourmets**
In a 5 quart pot stir together the tomato sauce, tomato puree, tomato paste, basil, oregano, garlic, salt, pepper, fennel seeds if using, and dry red wine; simmer over medium low heat for 1 hour.
Stir frequently; do not allow sauce to stick; lower heat if needed.
While sauce is cooking, brown beef and onion; drain well.
Add hamburger to the sauce at the end of the hour.
Simmer sauce for 1/2 hour; taste; adjust seasoning as needed.
Simmer for additional 1/2 hour.
Serve over your favorite pasta.