Linda's Hawaiian Barbecue Sauce for Barbecue Chicken and Ribs
Lorac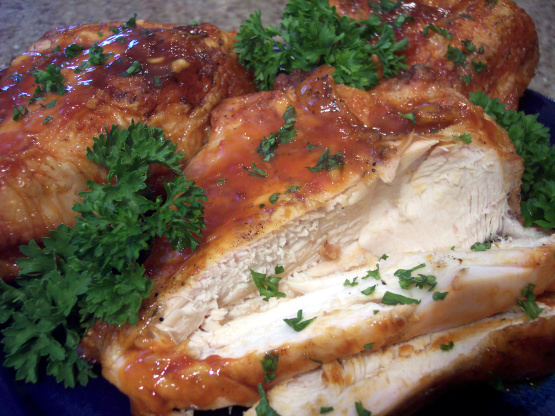 This sauce is so good I entered it in the BBQ Sauce Cook Off 9/07. Use this sauce on ribs, chicken, pork chops, seafood... Heck, just about anything! It promises to give you the ULTIMATE in flavor. I used this sauce on ribs, and they are absolutely to die for, and the BEST ribs I have ever had the pleasure of making and eating... This recipe is heaven sent, especially for us rib lovers, using 3 racks of baby back ribs! I double the sauce, and use every last bit. Any sauce that may be left over after basting, you can spoon on ribs right before serving. Definately one not to be missed!

This has got to be the BEST rib sauce ever, and I mean EVER!!! We had a tropical themed birthday party, tripled the recipe and used 3 racks of ribs. It was sooo good, I didn't want to share the leftovers! We'll definitely be making these again. All I can say is, "WOW!!!"
1⁄3 cup unsweetened pineapple juice
1⁄4 cup low-sodium teriyaki sauce, I use Kikkomans
1⁄4 cup ketchup

1

garlic clove, minced

1

tablespoon brown sugar, firmly packed

1

tablespoon ginger, minced
Use with 3 baby back rib racks:.
In a lg. Dutch oven, combine ribs and cold water to cover. Bring to a boil over med-high heat.
Cover, remove from heat, and let stand for 30 minutes.
In a small saucepan, combine pineapple juice, teriyaki sauce, ketchup, garlic, and brown sugar.
Bring to a boil, stirring, over med-high heat. When it starts to boil, reduce heat to low, and simmer for 10 minutes.
Stir in ginger.
Remove from heat, and let cool.
Heat grill to med.
Drain ribs. Place on grill rack.
Brush with half of the sauce.
Grill 6" from heat, covered, for 5-7 minutes per side. (Watch carefully, so they don't burn)!
Brush with remaining sauce.
Grill covered until browned, about 3-5 minutes per side.