Linda's Fantabulous Porky-Pine Meatballs
Lille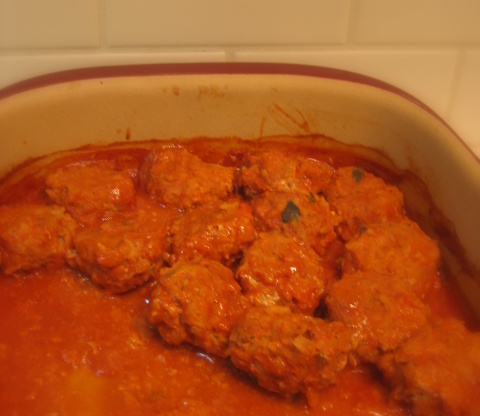 There are so many recipes for Porcupine Meatballs so I thought I would throw in my 2 cents worth in. Porcupine Meatballs got their name because of using the proper rice. If you use long grain or instant or converted you won't get the 'Porcupine' surprise. I recommend a short grain rice and specifically I use Cal Rose brand. I think an Aborio would work as well. I give the rice a rinse in a mesh colander before mixing the meatballs. This is a recipe every kid loves, including DH, the biggest kid of all. Try both variations and then try your own combination to come up with what your family likes best.

Finally ! A recipe using ground beef that my picky 4yo will eat. She gobbled these up like there was no tomorrow. These meatballs couldn't be easier to prepare, either. This recipe will be in the rotation monthly, if not more. Thanks for posting :)
Pre heat oven to 350.
Mix meat, rice, milk, parsley, onion, salt and pepper in a mixing bowl.
Spray a 13x9 pan with cooking spray.
Form meatballs into one ounce balls (I use a small cookie scoop). If you use the right size scoop you will fill the baking pan perfectly.
Mix soup and water together until well blended. Pour over meatballs.
Cover baking dish tightly with foil.
Bake for 1 hour until hot and bubbly.
This recipe works great for a buffet too. You can make them with barbeque sauce for a big yummy change. Have some frilled toothpicks standing by and watch them disappear!
Hope you and your family like this variation of 'Porky-Pine' meatballs.