Lina's Avocado & Lime Jalapeno Poppers
Linajjac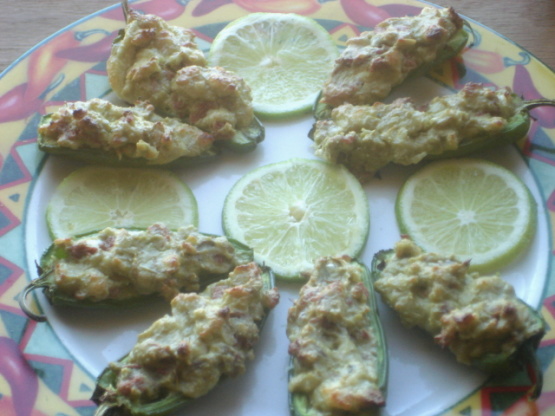 Tired of the same old jalapeno poppers? I wanted something different and came up with this. I've also mixed in bacon bits into the avocado mixture. My DH really liked that. But I didn't care for the bacon in it. I just thought it took away the lime flavor. The lime really gives these such a fresh zesty taste. See note on bottom.

These are delicious!!! I make them all the time.
Preheat oven to 350.
Mash the avocado & cream cheese till smooth. Mix in the the lime juice, garlic powder and cumin. Cut jalapenos in half lengthwise and remove seeds. (you might want to wear gloves when handling peppers.).
Stir in the cheese. Fill each pepper. Place on a foil lined cookie sheet. Bake for 15 to 20 minutes.
**Note** Depending on the size of your jalapenos, you may have leftover filling. I filled around 12 medium to small peppers.