Mandy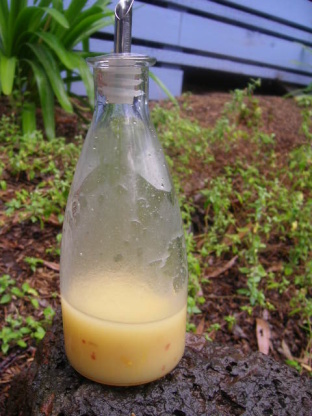 Great vinaigrette with the perfect combination of sweet, tart and fiery; makes this recipe a real winner. Use the vinaigrette on salad, seafood or even berries! You can use store bought Limoncello or use my recipe to make homemade Limoncello (Limoncello (Lemoncello, Limoncella)). Great gift idea!

Very tasty and quite a surprise! I would have never thought to use Limoncello for a vinaigrette but it truly was a nice change from our usual vinegar, vinaigrettes! I'm giving it 4 (+) stars rather than 5 because it was a tad "boozy" for our salad greens- but I can imagine it being a REALLLLLLY yummy marinade for chicken or fish. Can't wait to try it! Thanks for sharing yet another delish recipe, NcMysteryShopper!
Whisk Limoncello, lemon juice, zest, mustard and red-pepper in a small bowl.
Whisk in oil and season to taste with salt.
Pour into decorated bottle if giving as gift or can be used immediately.