Limoncello Lavender and Vanilla Cream Liqueur
Rita1652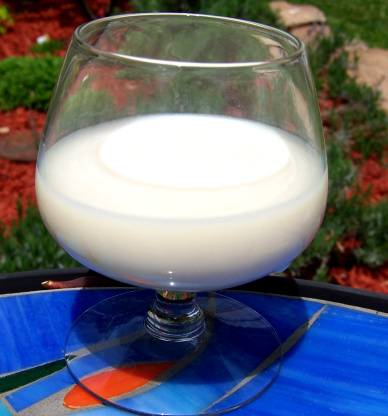 I came up with this variation of this limoncello which is lusciously creamy with the essence of vanilla and lavender. After making Kim's Creamy Limoncello. This is to be sipped icy cold on a hot summers day with your eye closed. Relax Ahhhhh! Making it a comforting excellent aperitif. Served chilled from the freezer in a frosted liqueur glass. Keep refrigerated with in 1 month of freezer 6 months. Try to use 100-proof vodka, which has less flavor than a lower proof one. Also the high alcohol level will ensure that the limoncello will not turn to ice in the freezer.

Sweet and creamy, not too lemony. The lavender flavor could have been stronger, I will add more lavender next time. I added a tablespoon of vanilla at the end of heating the milk instead of using a vanilla bean. Tasty!
Wash the lemons with a vegetable brush and hot water to remove any reside of pesticides or wax; pat the lemons dry.
Remove the zest from the lemons with a vegetable peeler.
Make sure to scrape off any of the bitter white pith from the zest and discard the pith.
Soak zest in vodka for 7 days (room temperature).
Strain vodka through a fine-meshed sieve, discarding the zest. Transfer vodka to a 2 quart glass bottle.
In a blender add sugar vanilla and lavender and blend till fine and powdery.
Bring milk and sugar mixture to a boil then reduce to medium low heat, simmering uncovered, until reduced to about 6 cups.
About 45 minutes.
Strain and cool sweetened flavored milk completely.
Then add to strained vodka.
Place in refrigerator or freezer for 3 days for flavors to meld.
Shake well before serving.