Annacia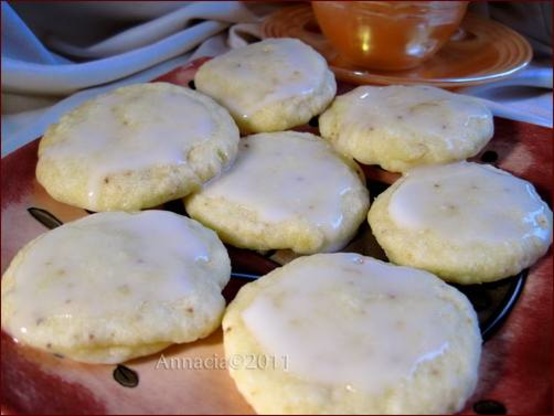 these cookies have a lovely delicate flavor - the glaze is definitely needed to bring it out. I used 3 TBL of the limoncello as one reviewer suggested. I also rolled the cookies into a log as suggested and chilled overnight. But then I sliced the cookies fromt the log - pretty thin, about a 1/4 inch. Baked on greased cookie sheets for about 13 minutes only! They turned out perfect - any longer they got too brown. And I had to triple the icing recipe which I drizzle quickly across the tops in sort of a zig zag design.
For the cookies:
Cream butter and confectioner's sugar with hand mixer. Stir in flour, lemon zest, limoncello, and salt until dough forms.
Roll into log, about 1 1/2 inches wide and 10 inches long. Wrap in plastic wrap and chill for a few hours or overnight.
When ready to bake, preheat oven to 350 degrees.
Line cookie sheet with greased parchment paper. Take golf-ball-size piece of dough and roll between palms to form a lemon shape. Flatten until dough is 1/4 inch to 1/2 inch thick.
Bake for 20 to 25 minutes, or until cookies just begin to brown on bottom. The dough will not expand on cookie sheet.
Remove from oven and cool completely.
For the glaze: Mix sugar and limoncello together in small bowl.
When cookies have cooled completely, drizzle glaze over top or spread on lightly with knife.