3 Reviews
This is an excellent and refreshing way to drink more water! Rather than use Splenda (which I don't care for), I added monk fruit sweetener, which worked out fine. Thanks for this reminder! Made for Spring PAC 2014.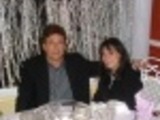 Im forever putting limes or lemon slices & the fresh squeezed juice in my ice water (No sugar for me though,,I love it tart) I also love them in any of the no cal flavored soda waters on the market,,it makes for a tasty,non fat,non caloric,non boring & healthy way to get your water & vitamin C in ya,, YUMMMYYYYY Debbie :)
One of my favourite summer time drinks! I add a dash of salt also to this and have this usually when I have an upset stomach. Thanks for the nice post of this recipe.

Lime Water