Wobin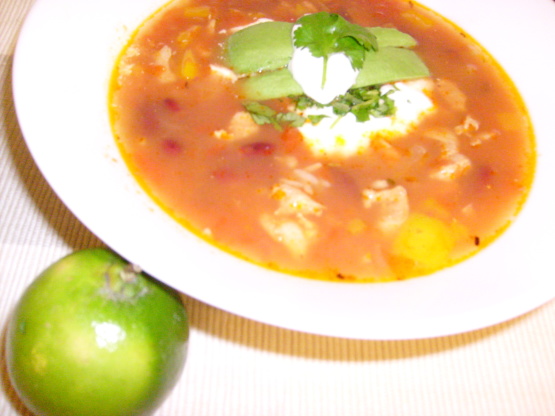 Here's a lovely lime-infused soup which includes cumin, cinnamon and a pinch of ground cloves along with garlic, oregano and cilantro. Yum! Tip: To shred chicken, simply pull it apart with your fingers into thin strips. Serving suggestion: Add broken-up corn tortillas for additional garnish.

Top Review by Wobin
I went a little bit over board with the lime and put the juice of 3 limes. I would suggest sticking to the specified 2 or less because wow was mine limey. I added a can of black beans and a couple hand fulls of rice twards the end. This soup tasted amazing even with over liming it. I would suggest to take the sliced limes out before you cool this soup to store in fridge. I ate some more later on after it had cooled and it tasted a lot like lime zest and I no longer liked it :( Thanks for the recipe!
2

tablespoons olive oil

1

medium green pepper, seeded, diced medium (about 1/2 lb, 1 1/2 cups)

1

small red onion, peeled and chopped (about 1/4 lb, 3/4 cup)

1

large garlic clove, peeled and finely chopped

1

teaspoon sea salt
1⁄2 teaspoon ground cumin
1⁄4 teaspoon oregano leaves, crushed
1⁄8 teaspoon ground cinnamon

1

pinch ground cloves

3

medium plum tomatoes, peeled, seeded, diced medium (about 1 lb total)

4

(14 ounce) cans reduced-sodium chicken broth

1

lime, sliced, plus

2

limes, juice of (2-4 Tbsp)
1⁄2 cup fresh cilantro, chopped

3

cups shredded cooked chicken or 3 cups shredded cooked turkey

1

avocado, peeled, diced medium
cilantro (to garnish)
Heat oil in large stockpot over medium-high, until oil faintly smokes. Add pepper and onion. Cook, stirring occasionally until soft but not brown, 3-4 minute.
Add garlic, cook, stirring 1 minute Add salt, cumin, oregano, cinnamon and cloves; cook, stirring 1 minute Add tomatoes, stock, sliced lime and cilantro; simmer 10 minute.
Add juice of 2 limes to soup. Add chicken. Season to taste with salt and pepper. Bring back to simmer.
Ladle into warmed bowls. Garnish with avocado and cilantro.