Lime Salsa Chicken Skewers With Cilantro Crème Sauce
Pellerin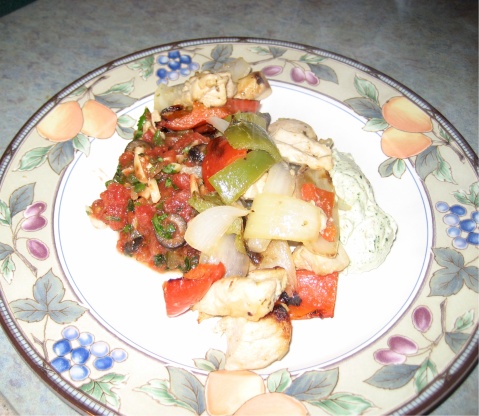 Not only does this Mexican-inspired "kebob" make wicked-good fajitas, tacos, burritos, or just plain, the cilantro creme sauce turns any other sandwich (e.g turkey, beef...) into something phenominal!

I have to agree with you about the cilantro creme sauce! I couldn't stop eating it! That is what really makes this dish--I served it with some plain rice, and it was outstanding--and EASY! Thanks a bunch for a new way with chicken--
CHICKEN and MARINADE

4

boneless skinless chicken breasts, cut into chunks

2

large limes, juice of (apx. 1/2 cup)

59.16

ml very dry sherry

59.16

ml extra virgin olive oil

4.92

ml oregano

2.46

ml garlic powder

2.46

ml salt

SALSA

411.06

g can diced tomatoes, drained

2

scallions, sliced (green onion)

118.29

ml sliced ripe olives

88.74

ml marinade, reserved above

29.58

ml jalapenos (seeded, deveined, and chopped)

29.58

ml cilantro, fresh, chopped

29.58

ml mint, fresh, chopped

29.58

ml almonds, slivered, toasted

2.46

ml black pepper

CILANTRO CREME SAUCE

226.79

g cream cheese, softened

14.79

ml sour cream

118.29-158.51

ml green tomatillo salsa (Pace & Victoria are good)

4.92

ml fresh ground black pepper

4.92

ml celery salt

2.46

ml ground cumin

9.85

ml garlic powder

1

bunch cilantro leaf, fresh chopped

14.79

ml fresh lime juice

SKEWERS

2

red bell peppers, seeded lg. chunk

2

onions, peeled, quartered
Chicken & Marinade: In a large Zip-Lock bag, make the marinade by mixing together the lime juice, sherry, oil, oregano, and garlic salt. Remove three Tablespoons of marinade; set aside. Add chicken to the remaining marinade, turning to coat. Marinate chicken in refrigerator for at least 1 hour. Soak wooden skewers in hot water at least 30 minutes.
Salsa: In a bowl, mix all ingredients well, and chill for an hour or more before serving.
Cilantro Crème Sauce:.
Combine all ingredients in a blender or food processor. Blend until smooth and creamy. Place in a serving bowl, chill a few hours or overnight.
Skewers: Toss bell peppers and onion quarters in with marinating chicken for last 30 minutes. Starting and ending with red bell pepper, make 7-8 skewers.
Place the skewers chicken on grill with rack about 8 inches from heat source. Brush the heated marinade over chicken. Grill, turning and basting frequently with marinade, about 16 - 20 minutes, or until chicken is fork-tender.
Arrange skewers on the platter, with cilantro cream sauce underneath, and salsa on top.