Lime-Roasted Green Beans With Marcona Almonds
Rita1652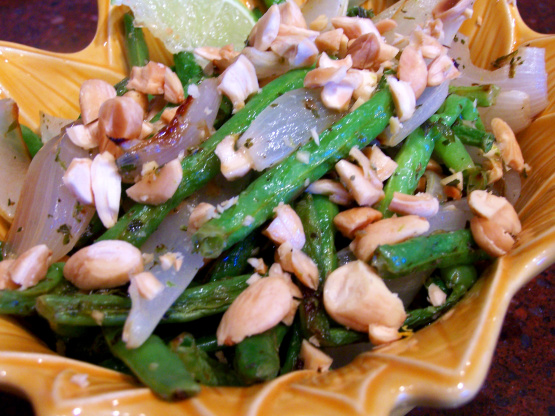 Adapted slightly from Bon Appetit Nov/07. They used lemon, i had lime and enjoy the different taste with them. You can use lemon or orange.

A very nice side dish, and easy to make when the oven is already hot for the rest of the meal. The lime is a good flavor substitution. I mistakenly read the herb as rosemary, which turned out fine, but obviously would be a very different taste. I just used regular almonds, and roasted them while the beans were in the oven.
Position 1 rack in top third and 1 rack in bottom third of oven and preheat to 450°F.
Spray 2 large rimmed baking sheets with nonstick spray. Combine green beans, onion wedges, and marjoram in large bowl. Drizzle with oil, then sprinkle with coarse kosher salt and pepper. Toss; divide between prepared sheets.
Roast vegetables 15 minutes. Reverse sheets. Continue to roast until beans are tender and beginning to brown in spots, about 10 minutes longer.
Transfer vegetables to bowl. Add lime juice, grated lime peel, and half of chopped almonds. Toss to coat; season with salt and pepper. Sprinkle with remaining almonds.