loof751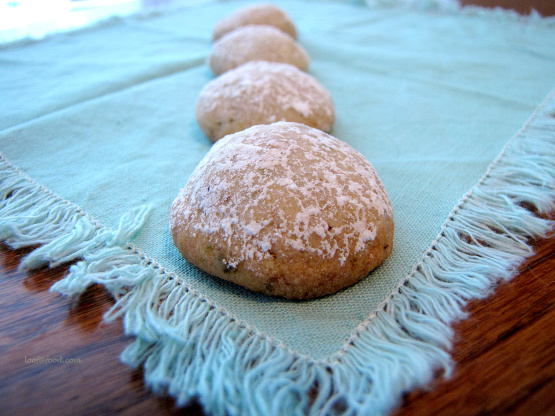 Cookies with a nice zing! Adapted from Fine Cooking magazine's "Holiday Baking" issue, December 2002. Make these cookies about 3 hours before you bake them!

Love these! Bright, delicate, scrumptious! I had to bake mine about 15-16 mins and never did let them get the brown edges, let them sit on the tray 4 mins. Thanks for sharing the keeper cookie recipe.
Several hours before baking:.
In a small bowl, combine flour and salt. In a food processor, combine 1/2 cup confectioner's sugar, pecans, and coconut. Process till pecans are finely ground. With electric mixer, beat butter till creamy. Add the pecan mixture, beat till well blended. Beat in lime zest and vanilla. Scrape down sides of bowl and add flour mixture beating until just combined. Remove the dough from the bowl, wrap in plastic and chill until firm, about 3 hours.
To bake:.
Heat oven to 350*F. Measure the dough into heaping teaspoon size pieces and roll each piece between the palm of your hands to form a ball. Place the balls 1 1/2" apart on ungreased cookie sheets. Bake until edges of cookies just begin to brown., 12 to 14 minutes.
Let cool on cookie sheets 3 to 4 minutes, then roll in confectioner's sugar while they are still very warm. Repeat rolling to create a delicate powdery coating. Enjoy!