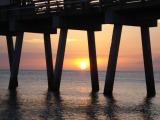 This Jello salad is a tradition in our family to serve with ham or pork. It has shredded cabbage and carrots in it which give it a nice crunch. My Mom always served it when I was a kid and she can't remember where she got the recipe from. My kids love it. You can make with with regular or sugar free jello.
1 (3 ounce) box lime Jell-O gelatin (or Sugar Free)
1 cup water
1 cup water, with leftover pineapple juice
1 cup cabbage, shredded very fine
1⁄2 cup carrot, grated
1 cup crushed pineapple in juice, drain and save juice
Directions
Shred cabbage in food processor to be very fine and to equal 1 cup. Grate carrots to equal 1/2 cup. Add both to an 8 x 8 square dish.
Drain crushed pineapple, reserving liquid in a measuring cup. Add ice to the juice so it will equal exactly one cup. Set aside.
In a small pan on low heat, heat one cup water. Add jello to dissolve and turn off heat. Add the pineapple juice/ice to the pan and stir until ice melts.
Pour jello mixture into the 8 x 8 dish with the cabbage, carrots and pineapple. Refrigerate for 2 hours unti firm.
Cut into 9 square servings and and enjoy!
Reviews
Most Helpful

Thanks for posting this. Next month we are having a 50's style shower and bringing pinwheel sandwiches, etc. I said I'd have to find the Lime jello salad recipe from somewhere. Here it is, and I thank you for it.
Thanks for sharing. My church made this jello salad every year for their community 'Turkey Dinner'. Brings back old memories!