Pam-I-Am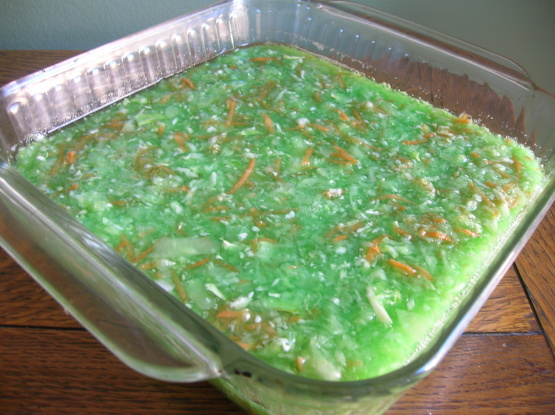 This Jello salad is a tradition in our family to serve with ham or pork. It has shredded cabbage and carrots in it which give it a nice crunch. My Mom always served it when I was a kid and she can't remember where she got the recipe from. My kids love it. You can make with with regular or sugar free jello.

My mother used to make this and forced me to eat it when I was a little boy 50+ years ago.It is truly vile and I still feel nauseated when I remember that glop.I would suggest feeding it to the prisoners at Guantonamo Bay but it would violate the Geneva Convention.
1

(3 ounce) box lime Jell-O gelatin (or Sugar Free)

1

cup water

1

cup water, with leftover pineapple juice

1

cup cabbage, shredded very fine
1⁄2 cup carrot, grated

1

cup crushed pineapple in juice, drain and save juice
Shred cabbage in food processor to be very fine and to equal 1 cup. Grate carrots to equal 1/2 cup. Add both to an 8 x 8 square dish.
Drain crushed pineapple, reserving liquid in a measuring cup. Add ice to the juice so it will equal exactly one cup. Set aside.
In a small pan on low heat, heat one cup water. Add jello to dissolve and turn off heat. Add the pineapple juice/ice to the pan and stir until ice melts.
Pour jello mixture into the 8 x 8 dish with the cabbage, carrots and pineapple. Refrigerate for 2 hours unti firm.
Cut into 9 square servings and and enjoy!