Maryland Jim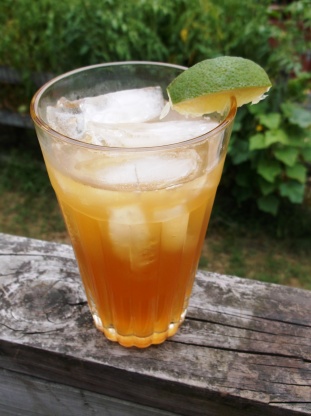 A very refreshing summer drink. This recipe is from Iced Tea by Fred Thompson. It is suggested in the book that some crushed mint leaves and sour mash whisky can be added for a nice cocktail. I made it using splenda which worked out very well. Prep time includes time to bring water to a boil.

Very nice and refreshing!!! Everyone enjoyed it. Will make again for sure. Made for ZWT9 and "The Apron String Travelers"
Bring 4 cups of water to a boil. Remove from heat and add tea bags. Steep for 5 minutes. Remove tea bags without squeezing( squeezing can add bitterness).
While tea is steeping, mix the limeade and sugar in a 2 quart heat-proof pitcher.
Pour the tea into the pitcher and stir. Add the other 3 cups of cold water and let cool, then chill.
Serve over ice with a lime wedge on the glass.