Lime-Ginger Syrup for Fruit Salads (Weight Watchers)
Pam-I-Am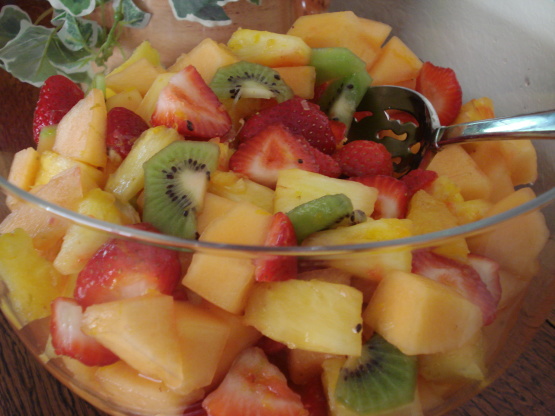 This recipe was in a Weight Watcher's meeting booklet. It was a fruit salad recipe, but the key ingredient was this syrup. Really, you could make up any fruit salad combination and toss this in. It really brightens up the flavor of the fruit. A 1/2 cup serving of fruit salad with this syrup is 2 WW points.

This syrup really makes fruit salads interesting, and makes me want to eat more fruit. I like it just the way it is but it's very lime-y so a person who doesn't like sour stuff might want to use less lime juice. I double this recipe when I cook it.
Combine first 6 ingredietns in a small saucepan.
Bring to a boil over medium heat; cook 5 minutes, whisking constantly.
Remove from heat; cool.
Stir in lime and orange zests.
Chill for 30 minutes.
Toss with your favorite mixed fresh fruit and serve.
1/2 cup serving is 2 Weight Watchers points.