Lime-Coconut-White Chocolate Chip Muffins
Annacia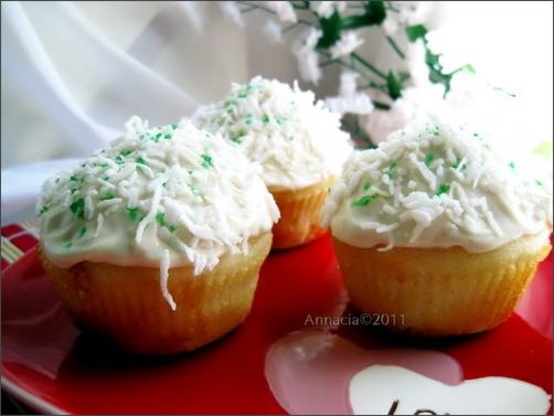 Light with a tropical flair...

The flavors here are lovely but I'm not sure how Syd got the line grated. The small hasp side of the grater wouldn't even scratch the lime skin and the large side just tore pieces out of it. I finely settled for squeezing the juice into the bowl for the flavor. I also found the temp to be too high, at least for my oven, I set it @ 375 and my 10 min check showed me that they were eagerly browning on the outside but very gooey and mostly raw inside. I reset the temp to 350 and gave them another 5 mins and that did the trick. They came out lovely and tall. As to the timing I need to say that I cut the recipe to 12 muffins and made 6 double sized ones because the guys gripe about "bite sized" muffins (regular ones). The juice turned out to be a great addition :D. Made for ZWT7.
Preheat oven to 400 degrees.
Line muffin tins with paper liners.
Whisk together the flour, baking powder, salt and coconut in a large bowl.
In another bowl, whisk together the eggs, milk, sugar, canola oil, lime zest and vanilla.
Pour into the bowl with the flour mixture and fold together with a rubber spatula until just combined.
Add the white chocolate chips and fold gently to incorporate.
Fill the muffin tins, and then cook in the preheated oven for 15-20 minutes until a toothpick inserted in the center comes out clean. (You may need to tent the tops with foil if they get brown too quickly.)
Cool for at least 10 minutes before serving.