KathyP53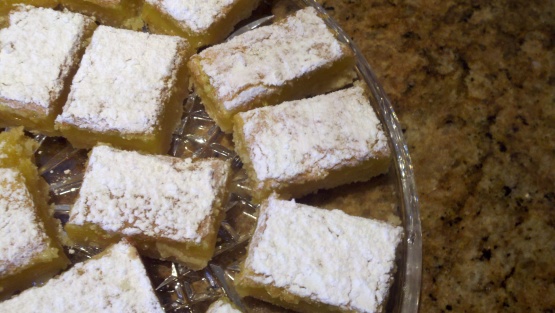 Even if your cookie cache is already full,you have to stuff in a batch of lime bars. Shortcake crust is tender and buttery-good. The topping has a delicate lime essence that is much more refined than lemon bars.
I love lemon bars and couldn't wait to try these. I was not disappointed. The shortbread crust is buttery and flakey and the lime topping is sweet, creamy and not too tart. The only change I made was to add the grated zest of one lime to the crust. Perfect!
In bowl, combine flour and powdered sugar; cut in butter.
Press into 13x9" pan.
Bake 350°F for 20-25 minutes.
Meanwhile, beat eggs on high till pale yellow.
Gradually add sugar and salt and lime juice.
Continue beating on high.
Pour over hot crust.
Bake another 20-25 minutes until golden brown. Sprinkle with more powdered sugar. Cool and cut into bars.
Makes 4 1/2 dozen.
NOTE- You may add 2 drops of green food coloring to egg mixture for that lime green color -- .