Lime and Thyme Potato Salad
Parsley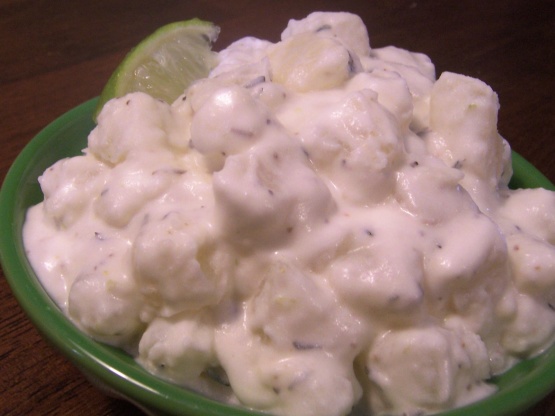 This is originally a Betty Crocker recipe, from one of those little booklets you can get at the supermarket checkout. It's a refreshing twist on the old potato salad. Cook time does not include chill time.

I've made this many, many times and love it, especially in the heat of a Nebraska summer. It's light, fresh tasting and nice with just about any grilled meat/poultry/fish you choose. Don't stint on the zest!
In a covered large saucepan, cook potatoes in enough boiling salted water to cover for 10-12 minute or just until tender. Drain.
Meanwhile, for dressing, in a large bowl combine mayonnaise, sour cream, lime peel, lime juice, thyme, salt and pepper. Add the cooked potatoes; toss gently to coat. Cover and chill for 6 to 24 hours.
To serve, if the salad seems too stiff after chilling, stir in a little milk to moisten. If desired, garnish with lime peel and additional fresh thyme.