Debbwl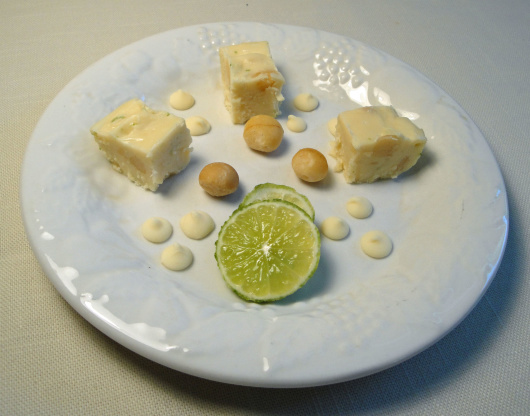 This is from the first edition of 4 Ingredients and comes highly recommended by the co-ordinator of my DS's recreation group for intellectualy and/or physically challenged adults. She has also made it using lemon in place of the lime and says both versions are equally delicious. I have not made this myself so I am estimating times and yield (do not include refrigeration time to set).

Top Review by Debbwl
A nice white fudge that is way too easy to make. This is a Really sweet fudge that has a light lime flavor and chucked full of macadamia nuts. Was a little hesitant about making this today as it is 104 F out and another reviewer had a problem getting the fudge to sit and thought it was the band of ingredients she used which happened to be the same ones I had already bought. Happy Days!! I checked after 2 hours and it had a nice shiny top (good thing) and the bottom was set (yes). I made as written weighing out the ingredients as fallows; 14 oz. can condensed milk, 17.50 oz. white chocolate chips, and 5.25 oz. macadamia nuts. Think I will make this again come the holidays. Note to self this is too sweet for mom and dad. Thanks for the post.
Line a 18cm (7 1/8") square tin with baking paper.
Place condensed milk and melts in a saucepan and stir over a low heat until smooth, remove from heat.
Add nuts and zest and mix well.
Pour into tin and refrigerate overnight prior to cutting.