jenne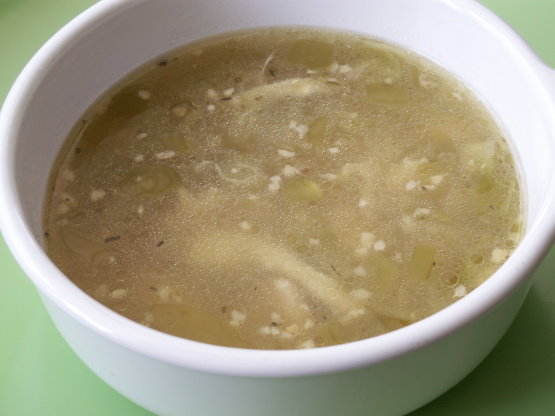 Another great recipe from Mark Bittman. If you want to add a little heat, use ground cayenne. You can also add diced boneless chicken during the last 10 minutes of cooking. You can used canned drained tomatoes in place of fresh.

Loving both garlic and lime, we knew we'd love this soup, but for sheer deliciousness it exceeded our expectations, so it's certainly a soup I'll be making often, especially since it's so quick and easy to make. Do use the best stock you can in this. I used my Recipe #135453 and added a sliced leek and a minced onion to the garlic (just lovethe yummy blend of those three together). I also added the suggested cooked chicken, making this a wonderful one dish meal which we thoroughly enjoyed with warmed, crusty ciabatta rolls. Made for Ali Baba's Babes for ZWT 5.
2

tablespoons peanut oil
1⁄4 cup minced garlic

6

cups chicken stock or 6 cups vegetable stock

2

cups cored peeled seeded and diced tomatoes
1⁄4 cup freshly squeezed lime juice
salt and pepper
Place the peanut oil in the bottom of a large, deep saucepan or Dutch oven and turn the heat to medium.
Add the garlic and stir. Cook, stirring occasionally, just until garlic becomes blond, about 5 minutes.
Add the stock and tomatoes and turn the heat to medium-high. Cook, stirring, until the mixture boils, then turn the heat down to medium.
Stir in lime juice and salt and pepper.
Taste and add more salt, pepper and lime juice to taste.