Rita1652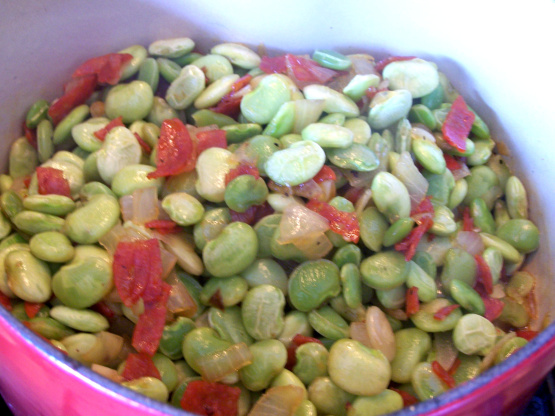 I was trying to re-work my frozen lima beans into something I could entice the kids with and came up with this dish. It was so simple with its zesty sweet flavor, and the kids ate every bite.

Top Review by jodi_m
These were fabulous! I had already boiled the lima beans for dinner, but just wasn't looking forward to eating them plain. I'm so glad I checked recipezaar out first. This was fast and easy, and I had all the ingredients on hand. I used half a bag of lima beans, one slice of bacon, and handful of red onion, and a generous sprinkle of brown sugar. This recipe is going to become a staple. My 6 year old preferred his beans plain, but his 1 year old sister ate nothing but these beans for dinner tonight!
Boil the lima beans according to package (about 10-12 minutes-I used pressure cooker for 5 minutes).
While beans are cooking fry bacon in a medium frying pan on medium heat until crisp and drain.
Add the red onion and cook additional 5 minutes.
Add lima beans, salt, and pepper to pan.
Sprinkle brown sugar and stir.
Add a couple Tablespoons water for saucier texture.
Serve.