Lilla's" to Die for " Chicken Wings
my mother- in -law's recipe. I'm asked to bring these wings every time we have a get together.
Directions
Mix all sauce ingredients thoroughly and pour over wings.
Marinate for at least one hour. I myself try to marinate overnight.
Bake in a 400 degree oven for one hour, flipping once half way through cooking time.
Recipe easily doubles or triples.
Reviews
Most Helpful
These were "OK"...they certainly are NOT "to die for", but they are a change from the usual Buffalo-style wings. Not sure if I'll make these again or not...sorry.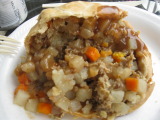 Rich, sticky, delicious! Kids and hubby loved them, will be making these again for sure, it was so simple. I might try it on legs and ribs too. Thanks for posting this recipe.