Like Zio's Tomato Florentine Soup
Jb Tyler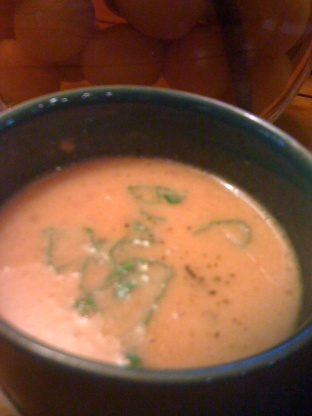 This soup is flavorful, hearty, filling, rich and satisfying. It is easy to make and if you enjoy tomato soup this is well worth trying. I found this recipe in the Colorado Springs Gazette online, it is courtesy of Zio's Itallian Kitchen. I am posting the original, feel free to modify it to fit your taste.

This is just like what I had it Zios. I love this soup and I was so easy to make. Also is good served over pasta as a sauce.
Prepare a roux: Heat 3 tablespoons butter in heavy saucepan over medium heat until foaming. Whisk in flour. Cook until straw colored, about 3 minutes. Set aside to cool.
Sauté onions in 2 tablespoons butter over medium heat until golden brown.
Add garlic and continue to sauté 1-2 minutes.
Remove mixture from heat and pure in food processor.
Prepare chicken base: Dissolve chicken bouillon cubes in hot water.
In a small Dutch oven or heavy pot, heat tomatoes, ketchup, vegetable juice and chicken base over medium-low heat.
Add pured onion mixture, basil, dill, hot pepper sauce, sugar, black pepper and wine.
Simmer 15 minutes.
Whisk in roux and simmer an additional 30 minutes over medium-low heat.
Whisk in cream.
Add spinach.
Serve immediately or cool and refrigerate.