Like Mom's Pineapple Upside Down Cake
Anonymous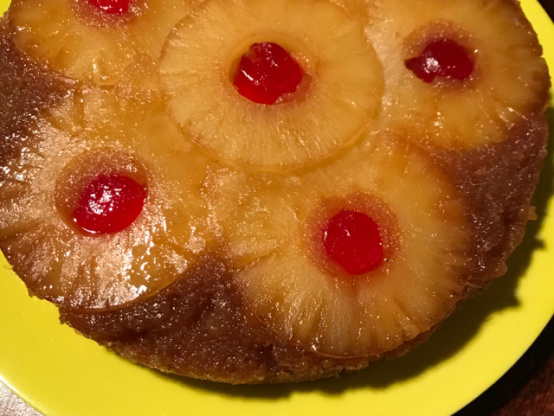 My mom made the best pineapple upside down cake and unfortunately no one in the family has the recipe. I found this recipe on the internet somewhere, and its taste like my Mom's recipe. It is so yummy and no yellow cake mix. Note: This was edited from when it was first posted, I accidently added all the butter with the brown sugar for top coating.

Absolutely delicious and really moist. I think cast iron is the best way to make these cakes -- they turn out so well. Will have to share with the neighbors or ration it out -- otherwise it will be gone in a flash.
Use a 9 or 10 inch cast iron skillet or pan.
Melt 1/4 cup of the butter over low heat in skillet, add brown sugar make sure evenly coats bottom.
Take pan off of the heat, arrange pineapple slices on top of brown sugar.
In a large bowl, cream other 1/4 cup of butter with the sugar. Add eggs, one at a time, mix until blended. Add juice, milk if using, and vanilla. Beat until sugar is well dissolved.
Sift flour, baking powder and salt and mix with the egg mixture until well blended.
Pour batter into the skillet/pan.
Bake at 350 degrees for 35 minutes.
Let cool for 10 minutes and then put plate over skillet/pan and flip over.