Ms B.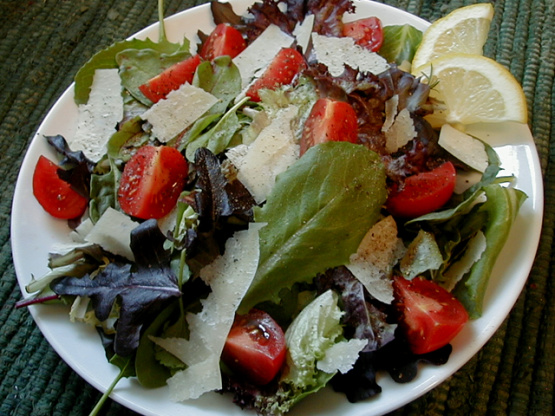 I learned this one from an old friend. Its name stems from the fact that you can go from nothing to a great salad in a minute or two. I use this recipe often. Serving size allows for some seconds ...

Top Review by Ms B.
This is a quick and easy salad with fresh flavors. I used an herbed salad blend instead of the romaine lettuce and liked the simple crispness of the lemon and pepper. I used the oil with a light hand, as I felt that the greens didn't need a lot. I served this with a mushroom/garlic pizza for a fabulous meal.
In a large salad bowl, pour in the romaine lettuce.
Cut the tomatoes in half and add to the bowl.
Sprinkle the mixture with the olive oil and mix until there is a light coating over everything.
Squeeze the lemons, sprinkle over the mixture and mix until coated.
Grind some pepper over the top.
Grate the parmesan cheese and sprinkle over the top.