Lightly Spiced Cauliflower Fritters With Yoghurt-Chermoula Dip
IngridH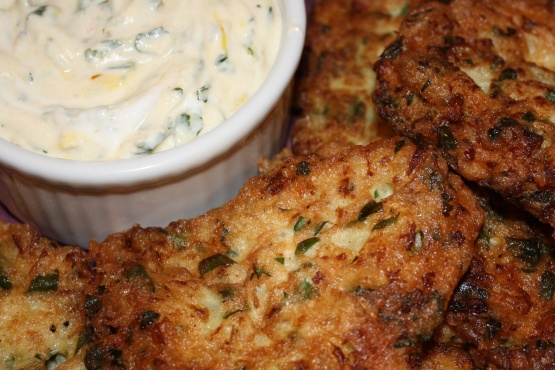 Healthy and light. DO make the dip or dressing suggested, even if you sub ingredients! It really gives the fritters a lift. Prep and cooking time are guesses, because it depends on so many factors. Prepping everything before starting cooking always helps to put together the final product much more quickly. I prepared it all halfway, and then had to leave it all and continue later. Cooking time depends on how large/small you make your fritters, and the size of your pan. Great way to get a veggie into your family. The weights/measures of the first 4 ingredients, as well as the seasoning, are not terribly important. Suit your tastes.

Wow! Who knew that cauliflower could taste like pub food? In this recipe, it really does. I cut the recipe in half, and got 8 fritters, plus a little batter that was too thin to use. Next time, I'll add a bit less water to the yolk and cornflour mixture, since the final batter was just a touch too thin. Maybe 1/2 tablespoon- for a half recipe. Start with less, you can always add more. I shallow fried these in a skillet, but next time I think I'll pull out the deep fryer, as my final product was a bit greasy, and that's typically a sign that the oil was too cool. Even a bit greasy, these were wonderful to eat, and I look forward to the leftovers tomorrow. For the dip, I used recipe #328368 for the chermoula, and it made a great accompaniment. This is a definite make again!
Fritters

14

ounces cauliflower florets (400 g, cauli broken in florets)

1

onion, small, finely chopped (150 ml)
1⁄3 cup finely chopped flat leaf parsley (100 ml)

1

teaspoon fennel seed
1⁄2 teaspoon black pepper (or more, to taste)
1⁄3 cup cornflour (slightly more, as it comes to 100 ml)

1

teaspoon ground cumin

2

teaspoons flaky sea salt

3

eggs, largest size
water (see directions)
oil (for frying, I use a mixture of canola and olive)

Dressing or dip

3⁄4 cup yoghurt, Greek style

3

tablespoons chermoula, paste (or try harissa, but slightly less)

1

teaspoon salt
Parboil the cauliflower florets until just softened, then drain well in a sieve.
Put into a deep mixing bowl, and stir in the finely chopped onion, parsley, fennel seeds and black pepper. With a large knife and a fork, cut through the cauliflower to make the florets very small.
Into the cornflour stir the ground cumin and the sea salt (you'll need less salt if using fine kitchen salt, maybe 1 teaspoon).
Separate the egg yolks and whites. Whisk the egg yolks, then add the cornflour slowly while whisking (an electric whisk works best). Add 1 - 3 tablespoons water to thin the mixture a little, but be careful not to add too much. Stir the egg yolk mixture into the cauliflower.
With very clean whisks, whisk the egg whites to a soft peak stage, then fold the egg whites into the cauli mixture.
Heat a generous layer of oil in a pan until quite hot. Drop heaped tablespoons of the mixture into the oil, and lower the heat. Fry until golden brown on one side, then flip over. If not happy, flip a 2nd time. This process takes about 2 minutes per side.
You will have to cook the fritters in batches: take out batches and leave on kitchen paper to drain, then remove to an oven dish and keep warm. You'll also need to add more oil to the pan as you work.
Dressing: Mix the chermoula with the salt and yoghurt, and serve on the side. You could substitute chermoula with harissa, but use less, as harissa can be hot.
Serve as a side dish with meat and another veggie.