Lightly Peppered Strawberries
COOKGIRl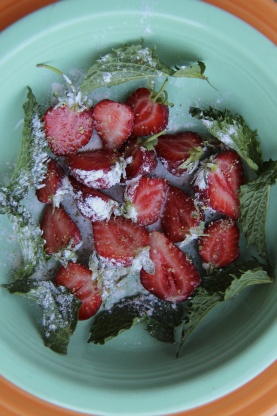 The Spanish and French were the first settlers in Florida and in the early 1800's American settlers grew tired of being under Spanish control. In 1814 General Andrew Jackson captured Pensacola. This resulted in Spain happily selling Florida to the United States for a mere $5 million, handing over control in 1821. With a magnificant climate and rich lands on which to farm Florida manages to produce some of the most delicious fruit and vegetables in the world-this recipe will give you some idea! Cook time is marinating time.

Love the slight bite of the white pepper and the fresh taste of the int. Beautiful recipe; so easy to do and so easy to eat. Made for Recipe Swap May 2008.
Hull the strawberries, cut them in half and put into a bowl. Sprinkle with pepper, sugar and finely chopped mint. Toss gently and let sit for 1 hour at room temperature. Toss again after 1/2 hour.
Serve sprinkled with a little mint on top. Enjoy!