Lighter General Tso's Chicken
Lainey39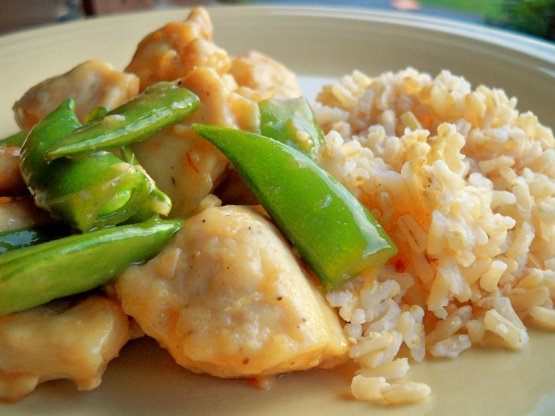 I'm not a big fan of Chinese food, but I will eat this popular dish when I'm with others who want to eat at a Chinese restaurant. I found this recipe in Martha Stewart's Food Everyday and it tastes really good! This is one of my husband's favorite dish so he was thrilled when I made it at home. This lighter version uses skinless chicken breasts, a light batter, and just a bit of oil for pan-frying to get the right texture with less fat.

I am going going to leave a star rating because I made quite a few changes. But here are my thoughts: I made this, leaving out the ginger because I do not have fresh and have read that ground ginger is not an acceptable substitute. I also just floured the chicken pieces instead of using the suggested batter because I was also out of eggs and hadn't realized it until after I'd already started making it. Regardless, my husband and I both really liked it. For the first few bites, the flavor hadn't fully hit me yet. I thought it was good though. But by the time my husband and I both finished eating it, we both wanted more! This stuff is addictive! It will definitely be going into our regular rotation. Thank you!
Cook rice according to package instructions.
Meanwhile, in large bowl, stir together 1 T cornstarch and 1/2 cup cold water until smooth.
Add snow peas or sugar snap peas, garlic, ginger, sugar, soy sauce and red pepper flakes; toss to combine and set aside.
In another bowl, whisk together egg whites, remaining 3 T cornstarch, 1/2 t salt and 1/4 t pepper.
Add chicken and toss to coat.
In large nonstick skillet, heat 1 T oil over medium-high heat.
Lift half the chicken from egg-white mixture (shaking off excess) and add to skillet.
Cook, turning occasionally, until golden, 6-8 minutes.
Transfer to a plate, repeat with remaining oil and chicken, and set aside (reserve skillet).
Add snow pea mixture to skillet.
Cover and cook until snow peas are tender and sauce has thickened, about 5 minutes.
Return chicken to skillet (with any juices); toss to coat.
Serve with the rice.