Lighter French Toast Waffles
Saturn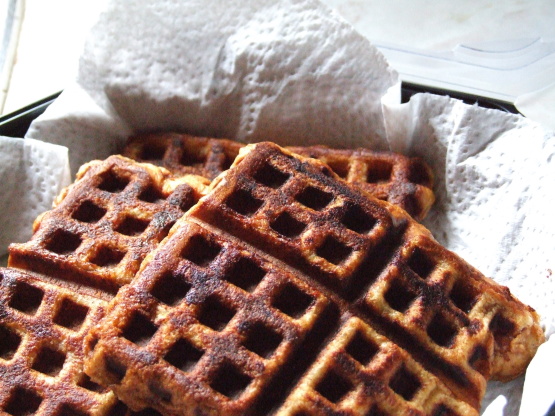 From Cooking Light. Make sure you use day old bread so the waffles don't get soggy. I soak the bread in batches so it doesn't become oversaturated.

These were so tasty! I had almost a whole loaf of whole wheat sandwich bread in the freezer which no one was going to eat so i decided to make this (I took from freezer night before and left it out of packaging so it dried out). I also used light becel margarine instead of butter, and 1 egg and two whites. This worked like a charm! I even used those undesireable heels of bread, and i think i enjoyed those the most because they were even crispier then the other pieces! The sandwich bread fit perfectly in my waffle maker, and i would recommend it. Just make sure you grease the waffle maker before each waffle and then you press the waffle maker down hard or you wont get the waffle indentation in the toast. This made enought batter for 8-9 pieces of sandwich bread.
Coat waffle iron with cooking spray and preheat.
Combine milk and next 5 ingredients, stirring well with a whisk.
Place bread in a 13x9 inch baking dish; pour milk over bread, turning to coat.
Let stand 5 minutes.
Place 4 slices on hot waffle iron. (More or less, depending on the size of your waffle iron).
Cook 3-5 min or until done; repeat with remaining bread.