Lighter Fare Turkey Pesto Casserole
loof751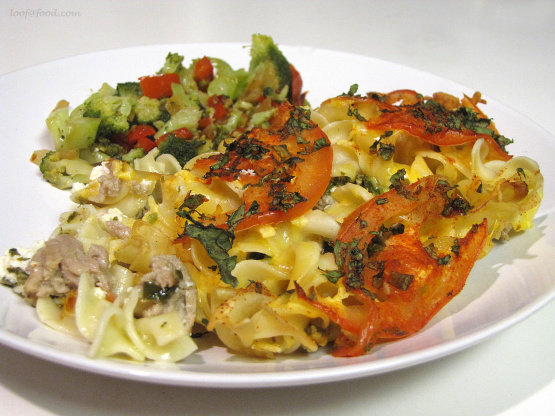 My previous casserole recipe for this was way to high on the calorie count and fat count for my new way of eating (lifetime diet as it were). So I've revised for this lighter version which I think brings out the pesto flavor so much more. (Side note: I used leftover turkey from the freezer and because it turned out rather dry last time, this time I threw it a pot of boiling water for about 5 minutes and drained before I layered it into the casserole).

This was really good! Filling and rich tasting, it didn't taste like a "lite" casserole. I used sauteed ground turkey for the meat and did include the optional tomato slices. Served this with sauteed broccoli and red bell pepper and it was a good combination; I was thinking while I ate that if I wanted to make this a meatless dish I would just use those veggies instead of the turkey. Thanks for sharing your recipe! Made for Fall PAC 2012
Preheat oven to 350°F.
Cook egg noodles according to package directions.
Chop turkey meat to small cubes.
Layer casserole as follows:.
1/2 of the egg noodles on the bottom.
All of the turkey meat.
Spread the ricotta over this carefully.
Dollop or spread the pesto over the ricotta next.
1/2 the fresh chopped parsley sprinkled over next.
The other 1/2 of the egg noodles.
All of the grated cheese.
Lay the tomato rings out evenly over the top.
Sprinkle with the remaining parsley.
Generously dust with paprika for a nice crusty top.
Place dish in preheated oven and bake for 30 minutes or until bubbly.
Serve.