JustJanS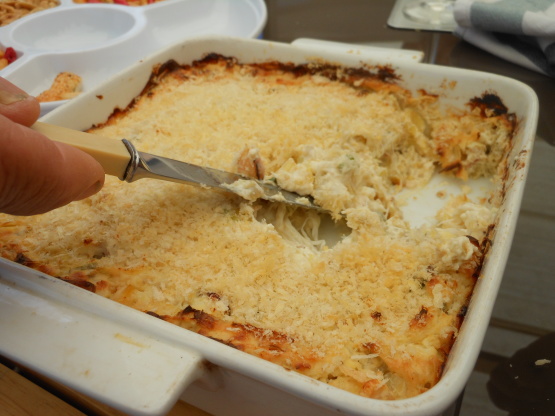 I make a crab dip based on one by Pet-R-Us I took it along to a 'zaar (we were members of Recipezaar when we met many years ago) BBQ yesterday where I was encouraged by the others to post my version. We catch, pick and freeze our own crab meat, so I just grab a packet or two out-I think I usually aim to use around a cup, but it's OK if it's a bit more. I actually squeeze each artichoke as dry as I can, or the liquid spoils the dish. I like to serve this on crusty fresh sour dough baguette slices, but you can use chips, crackers or vegetable crudites if you prefer!

Top Review by ImPat
The DH and I were one of the couples at the ZAAR get together BBQ and it was fantastic so creamy and rich tasting that you wouldn't believe that low fat had been used. I would just loved to have been able to sit down with a spoon and eaten as was but on thick slices of fresh white baguette it was a total delight to eat. Thanks Jan for a great day and a greater treat in sharing this wonderful dish.
Grease an oven proof dish (about 6 cup capacity) and preheat oven to 180c or moderate temperature.
Mix together all ingredients apart from panko crumbs and extra parmesan.
Pour into baking dish, sprinkle the top with panko and extra parmesan, then bak in the oven about 30 minutes or until bubbling, and golden.