Lighter Chocolate Fondue (Or Ganache)
Prep 15 mins
Cook 10 mins

This is an amazingly dark, rich and sinful fondue with a lot less fat. Make sure to use the best quality chocolate you can get your hands on, since that is your main flavor here. I have listed the things we like to dip in our fondue; other ideas are cherries, dried apricots, walnut halves, marshmallows or anything else that sounds good to you! This could also be used as a ganache. I always wondered if I could make a lower fat ganache without whipping cream, and here it is (and surprisingly, it takes almost the same)! Use to frost cupcakes or fill cakes. Slightly adapted recipe from Ellie Krieger's Healthy Appetite on Food Network.
Directions
Cut angel food cake into bite size wedges.
Peel and cut banana into one inch chunks. Core and slice the pear or apple.
Place the bananas, pears and strawberries on a serving platter. Squeeze orange wedge over banana and pear (or apple) and mix gently.
In a medium saucepan, whisk together cocoa powder and sugar. Slowly pour in evaporated milk, all the while whisking, to make a paste.
Place the saucepan over low to medium heat and cook, stirring constantly, until chocolate base is simmering.
Remove pot from heat and whisk in vanilla and chocolate. Keep stirring until chocolate is completely melted. The mixture will be quite thick.
Transfer chocolate to a fondue pot to keep warm. If you do not have a fondue pot, try serving the fondue in a warmed ceramic bowl.
Dip fruit in chocolate. Spoon chocolate over angel food cake (it is too delicate for dipping) and enjoy!
Store leftovers in the refrigerator. Rewarm by microwaving 35-45 seconds, stirring every 10 seconds.
Most Helpful
This definitely tasted decadent and sinful and it was great knowing that it was lighter in fat! It was rich and oh so chocolatey! It was lovely and thick and set up firm in the fridge - like the previous reviewer, I think it would be great to use for truffles!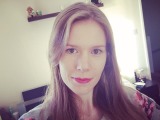 This is indeed an amazing recipe! With diabetic and elevated cholesterol issues in our family, I am constantly on the look-out for recipes that will be suitable for us, and I can see that this one will be used both as a fondue and a ganache. I had the opposite experience as a previous reviewer...mine turned out very thick, which was perfect as I planned to use it as a ganache layer...the leftover became very thick on cooling, and I believe it could be used to make truffles, which I will consider doing for Easter. I used Splenda (part regular, granular Splenda, and part Brown Sugar Blend Splenda) successfully, which was a bonus making this recipe both low fat, and mostly sugar-free. With both of these flavour ingredients missing, the quality of cocoa, and dark chocolate is key. I used dutched cocoa, and it gave a very dark chocolate ganache...next time I will use natural cocoa, and more evaporated milk to make the fondue, and compare the taste. If you like dark chocolate for eating, as I do, this recipe will appeal. I'm wondering if I substitute some sugar-free hot chocolate drink mix for part of the cocoa, it might make the milk chocolate fans in my tribe happier...I'll try that and edit my review if it is successful.
The kids adored dipping fruit in this yummy chocolate sauce, and as a mom, I appreciated that it is lower in fat. It was easy to put together, though I wonder if I did something a bit wrong because I never got a paste in step 4, nor did my mixture get very thick until the leftovers were sitting in the fridge. Personally the fondue tasted a little bit too much of cocoa powder to get a 5* rating, but still, it was very yummy! Thanks Maito for a lighter but still yummy version of a favorite dessert.