3 Reviews
This definitely tasted decadent and sinful and it was great knowing that it was lighter in fat! It was rich and oh so chocolatey! It was lovely and thick and set up firm in the fridge - like the previous reviewer, I think it would be great to use for truffles!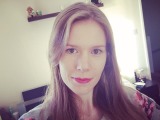 This is indeed an amazing recipe! With diabetic and elevated cholesterol issues in our family, I am constantly on the look-out for recipes that will be suitable for us, and I can see that this one will be used both as a fondue and a ganache. I had the opposite experience as a previous reviewer...mine turned out very thick, which was perfect as I planned to use it as a ganache layer...the leftover became very thick on cooling, and I believe it could be used to make truffles, which I will consider doing for Easter. I used Splenda (part regular, granular Splenda, and part Brown Sugar Blend Splenda) successfully, which was a bonus making this recipe both low fat, and mostly sugar-free. With both of these flavour ingredients missing, the quality of cocoa, and dark chocolate is key. I used dutched cocoa, and it gave a very dark chocolate ganache...next time I will use natural cocoa, and more evaporated milk to make the fondue, and compare the taste. If you like dark chocolate for eating, as I do, this recipe will appeal. I'm wondering if I substitute some sugar-free hot chocolate drink mix for part of the cocoa, it might make the milk chocolate fans in my tribe happier...I'll try that and edit my review if it is successful.
The kids adored dipping fruit in this yummy chocolate sauce, and as a mom, I appreciated that it is lower in fat. It was easy to put together, though I wonder if I did something a bit wrong because I never got a paste in step 4, nor did my mixture get very thick until the leftovers were sitting in the fridge. Personally the fondue tasted a little bit too much of cocoa powder to get a 5* rating, but still, it was very yummy! Thanks Maito for a lighter but still yummy version of a favorite dessert.

Lighter Chocolate Fondue (Or Ganache)