Lightened up Thumbprint Cookies
CoffeeB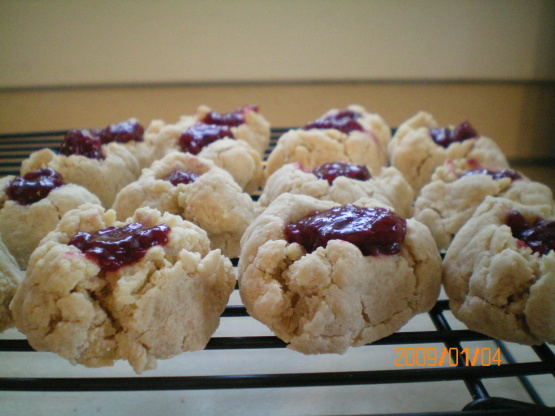 These jam-filled cookies are slimmed down with a butter substitute. Recipe is from Woman's World.

I'm giving these cookies 4 stars because I did omit a few things from the recipe. But, I will say I did have some problems with the recipe. First of all they're really crumbly to work with. I had to add a bit more butter to the mix to get the dough to hold together enough to roll into balls. I used Splenda sugars (both brown and white) and omitted the orange zest. I also chose not to drizzle the powdered sugar glaze and used Smuckers Low-Sugar Raspberry Jam. Where I made a mistake was not looking at the serving size. I made 15 walnut size cookies and should have made them a touch bigger as I see your recipe states 12. All in all these have pretty good taste, and of course because they are lighted up, practically guilt-free~ Made for PhotoTag~
Preheat oven to 350 degrees F.
Coat baking sheet with cooking spray.
Combine flour, baking powder and salt; reserve.
In large bowl, with spoon, mix spread and brown and granulated sugars until creamy.
Stir in egg white, 1/2 t zest and vanilla until well combined.
Stir in reserved flour mixture until just combined.
Coat tablespoon and hands with cooking spray.
Roll level tablespoonfuls of dough into balls; place on baking sheet.
Using end of wooden spoon, make indentation in center of each cookie, pressing 3/4 of the way through.
Bake 9-10 minutes or until edges are just set.
Cool completely on racks.
Stir together confectioners' sugar, remaining 1/4 t zest and 1 t water; drizzle over cookies.
Fill each cookie with 1/4 t preserves.