Lightened Taco Bell Mexican Pizza - Copycat
megs_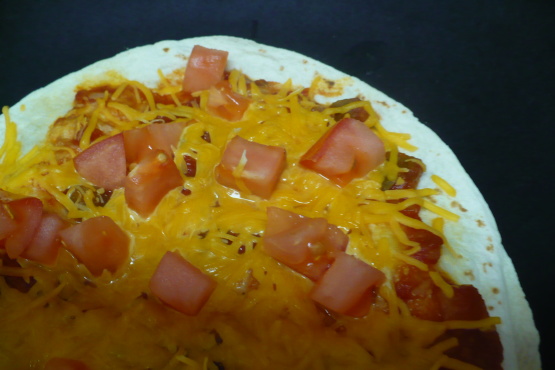 Top Review by megs_
Perfection! This tasted to me, JUST like Taco Bell's, except healthier. I used a taco seasoning packet in place of the seasoning, fat free beans, and omitted the onions/olives. With the beans I mixed in a little cumin, salt & pepper, and chili powder to give them a little extra kick. The tomatoes really sold me on this, that's my favorite part of Taco Bell's version. I scaled the recipe down to one, and it was easy to do. Watch the tortillas in the broiler - they crisp faster than you would think! GREAT recipe - thanks for sharing!!
Cook the ground beef over medium heat until brown, then drain.
Return meat to pan and add the salt, onions, paprika, chili powder and water.
Let mixture simmer over medium heat for 10 minutes, stirring often.
Pre-heat oven to 400.
Spray both sides of the tortillas with cooking spray and bake until crisp.
Heat refried beans.
Stack each pizza by first spreading 1/3 C beans on one tortilla.
Next add 1/3 C meat, then another tortilla.
Top the second tortilla with 2 T of salsa.
Divide the tomato, cheese, onions and olives evenly and top in that order.
Bake for an additional 8-12 minutes.